What Is Directions, and Who Is It For?
Directions is FPS GOLD's annual user group conference, where our clients come together to learn about new and existing products, network with others, and spend time with their FPS GOLD account managers. Directions 2022 will be held at the JW Marriot Las Vegas Resort & Spa in Las Vegas, Nevada, and begins on June 6.
Conference Agenda
If you have any questions about the agenda, please email Val at valt@dhicorp.com.
Registration / Exhibit Setup
Opening General Session and Welcome

Session 1 Classes
Reporting Tools - A Guide to Success (GOLDMiner / VitalView GOLD)
Don't leave your bank's performance, efficiencies, and profitability to chance. In this session, we'll demonstrate how you and your staff can use Standard Reports, GOLDWriter, GOLDMiner, and VitalView with success. These tools can help you find, extract, and graphically review pertinent information to make well-informed decisions and keep your bank a high roller in the banking world.

eBanking - Mobile Banking
Mobile banking has become the most popular way to bank. Customers expect to deposit checks, transfer funds, and pay bills, and to do so easily. Are there features and functions that FPS GOLD needs to add to help increase your reach? This class will discuss mobile banking, what FPS GOLD has now, and what we're bringing to the market, including wearables and widgets.
Loan Teller Transactions
Are you feeling "All Shook Up" about your loan teller transactions? Are you ready for "a little less conversation" and ready to take action? Then come join us as we deep-dive into what our loan teller transactions have to offer. Learn about the tools at your disposal, such as Transaction Reversal, Teller Spread, Employee Initiated Payments, and much more! You'll be feeling "Burning Love" for loan transactions by the time we finish.
Break / Vendor Marketplace

Session 2 Classes
Teller Capture (Interactive - Jaguar)
There's no gamble in your teller transaction game with the FPS GOLD Teller Capture product. This session will provide a demonstration of Teller Capture. Then try your luck for a chance at a hands-on experience scanning some transactions. What's scanned in Vegas stays in Vegas.

eBanking - Commercial Banking
eBanking is popular, and commercial customers are seeking convenient and efficient ways to bank and do business. How can your financial institution provide the treasury-management services that will help you keep and attract commercial clients? What features can FPS GOLD integrate or build to help you expand your reach? Come see where FPS GOLD is taking commercial banking.
Automated Solutions to Meet Modern AML Challenges (Presented by Verafin)
Financial institutions are facing growing pressure from complex money laundering scenarios and mounting regulatory requirements. As workload and compliance costs increase, and false positives overwhelm already strained resources, there is a significant risk of relying on manual processes or rules-based monitoring systems. Join Verafin Product Evangelist Corey Lynch as he reveals the benefits of transitioning from manual to automated solutions to effectively and efficiently fight financial crime and maintain compliance.
Lunch Buffet / Vendor Marketplace

Session 3 Classes
Deposit Forum
Come to this year's Deposit Forum to share ideas with other FPS GOLD clients about our deposit-related systems. We need your input to continue making our systems better. We encourage you to pre-submit/email your ideas and topics of discussion prior to the forum (daynak@fpsgold.com) so we can be prepared to address them with the entire group.

Accounting Forum
The accounting forum offers an open venue for accounting-related questions and discussions. With many institutions already migrated to G/L Platinum, we'll update you on the status of upgrades and the recent programming in G/L Platinum. We'll also provide a status update for the Accounts Payable rewrite project.
Loan Forum
The lending environment continues to change all around us. The Loan Forum gives you the opportunity to share thoughts on growing with these changes. Prepare to share your ideas and network with other clients and FPS GOLD personnel. We encourage you to pre-submit your topics of discussion prior to the forum to tmurphy@fpsgold.com or brandonw@fpsgold.com.
Break / Vendor Marketplace

National User Group Meeting

Session 4 Classes
Let's Give Them Something to Talk About
In the Let's Give them Something to Talk About session, we're going to share the latest and greatest from your Client Services team at FPS GOLD. We'll start with a little show and tell of the upcoming Ticketing System. It's a tremendous change that will give you the chance to send, track, and communicate with your support team in a way you've never done before. We'll do a review of the work order process as you send, review, and track the progress of your work requests. Finally, get ready to jump into the training pool and look at tools to help you and your employees learn all things banking. Not only can you create training opportunities for your employees, but you can also track progress (and hopefully reward success) as you and your employees grow. Let's get talking.

eBanking - Real-Time Payments
Speed. Convenience. Ease of use. How we conduct transactions with friends, family, and businesses is evolving. Many of us use convenient, fast payments and payment methods regularly. What can FPS GOLD do to help you bring this offering to your customers? Come check out integrations and redesigns of P2P and personal, real-time payments.
Methodology Madness: CECL Methodology Selection and Justification (Presented by nCino Topic TBD
This presentation will include an overview of CECL methodologies, how to assess and select the right methodologies, and how to justify your methodology selections.
Break / Vendor Marketplace

Session 5 Classes
EFT GOLD / FedNow
This class will highlight some of the upcoming changes to payment processing at the Federal Reserve Bank, including the FRB's instant payment service, FedNowSM and the pending Fedwire ISO 20022 format changes. In addition, we'll demonstrate some of the features of FPS GOLD's wire transfer solution, EFT GOLDTM and how the FRB payment initiatives will impact the future development and features of EFT GOLD.

eBanking - Back Office
Come learn how to support your eBanking customers and grade your financial institution's eBanking security posture. We'll show you how to research eBanking activity using CIM GOLD, Outseer, UrbanFT, and iPay.
Taking the Guess Work Out of Lines of Credit
Lines of credit have long been a standard loan product offered to consumers as well as commercial and ag customers. The FPS GOLD system is well equipped to handle all LOC products, from commercial and ag operating lines to consumer unsecured/overdraft lines, inventory lines, and HELOCs. These products work very well when they're set up correctly. They can also be complex and difficult to fix when there are issues. We want to help take the guess work out, whether it's setting a new line up or troubleshooting an issue. Come join us as we discuss proper ways to use, set up, and maintain these much-needed products. We'll also explore a new payment method that was released late last year and have some Vegas vacation fun! No card-counting book required for this class; we'll provide you with all you need to be a winner when it comes to lines of credit.
Lunch Buffet / Vendor Marketplace

General Session - Keynote Speaker

Break / Vendor Marketplace / Exhibit Takedown

Session 6 Classes
Retirement
Retirement plans have been in the spotlight these past couple of years. This class is a good opportunity to revisit all of these changes. We'll do an overview of the retirement system and the updates FPS GOLD has made for these new requirements. Beneficiary changes will be emphasized. We'll also look at upcoming changes, including new W4-P requirements. This will include both system and Platform changes.

Loan Charge-Offs and Recoveries
The FPS GOLD Loan, Financial Applications, and Development Teams have been working to significantly enhance the Loan Charge-off and Recovery process. During this session, key objectives and improvements needed to track and clearly account for charge-offs and recoveries will be reviewed. Upcoming software changes will be previewed, showing the progress being made to address various scenarios in the charge-off and recovery process.
Building Effective Marketing Campaigns
In this class, we'll show you step by step how easy it is to create an effective marketing campaign for your financial institution. Follow these simple steps, and you'll be generating more business in no time.
Session 7 Classes
Reporting Tools - A Guide to Success (GOLDMiner / VitalView GOLD)
Don't leave your bank's performance, efficiencies, and profitability to chance. In this session, we'll demonstrate how you and your staff can utilize Standard Reports, GOLDWriter, GOLDMiner, and VitalView with success. These tools can help you find, extract, and graphically review pertinent information to make well-informed decisions and keep your bank a high roller in the banking world.

eBanking - Expectations and Forum
This class rounds out the eBanking classes this year. It will be both a forum and a presentation on progress made in the last year with FPS GOLD eBanking and where the future will take us.
Loans - Programming Enhancements
The Client Services Loan Team and Programming departments at FPS GOLD have been working hard over the last year to program new features and enhancements to meet the needs of our clients in this fast-paced, ever-changing banking environment. During this session, we'll go over some of those enhancements and features, giving you an overview of what they are and how they work. We have many new updates to cover, so you don't want to miss this class. Come and learn about what has been happening on the loan programming front.
Session 8 Classes
Preparing for Regulatory IT Exams and Presenting Your Risk Landscape
Please join us for a discussion on how to prepare for an IT exam with regulators and understand what your risk landscape looks like. We'll go over some methods for discovering, evaluating, and documenting what's in our environments and what the regulators will likely be looking for. We'll also discuss how our exam prep work can be used in broader information security and risk management programs.

Deposits - Underused Tools
What happens in Vegas shouldn't always stay in Vegas! This class will focus on underused aspects of deposits and services that are available to you. The goal of the class is to aid you in problem solving, training, and improving efficiency. We'll give you the knowledge to increase your effectiveness for those 361 other days of the year.
Accounting Best Practices and Underused Features
Over the years, FPS GOLD has programmed many useful features of which you may not be aware. During this session, we'll highlight some of these features and accounting best practices to enhance your reporting, reconciling procedures, and operations. Implementing these features will lighten your load and save you time!
Lunch & Closing General Session

Richard Turner as Directions Keynote Speaker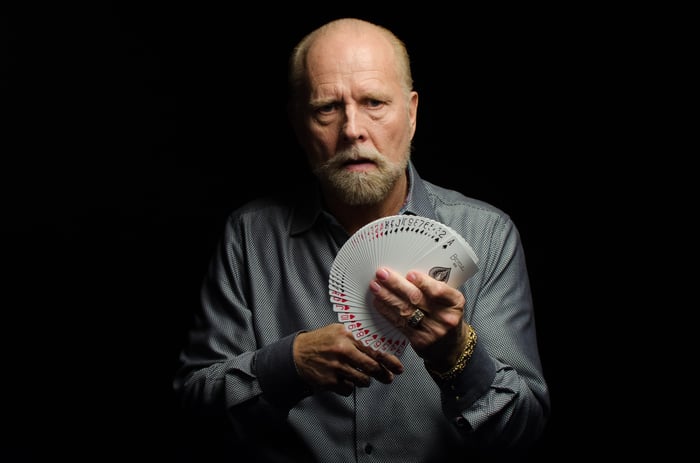 The world's greatest card magician of all time, Richard Turner has mesmerized millions and left celebrities such as Brad Pitt, Colin Powell, and Muhammad Ali awestruck. What makes Turner's feats of magic and sleight of hand even more astounding is that he is completely blind. His remarkable life story of overcoming adversity to rise above sighted "card mechanics" is the subject of the award-winning documentary, Dealt, now under development to become a major Hollywood film. Dubbed "one of the finest sleight-of-hand artists who has ever lived" by none other than master magician Penn Jillette of Penn & Teller, Turner blends pearls of wisdom on overcoming seemingly insurmountable obstacles with the most enthralling card performances you will ever experience.