What Is Directions, and Who Is It For?
Directions is FPS GOLD's annual user group conference, where our clients come together to learn about new and existing products, network with others, and spend time with their FPS GOLD account managers. Directions 2021 will be held virtually and begins on June 8. Registration ends June 1.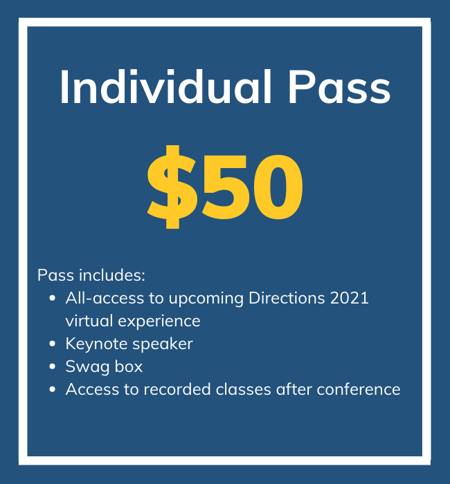 Conference Agenda
This year's agenda is spread throughout the month of June. You'll notice that each day only has one or two sessions. We did this so you won't have to dedicate your whole work day to the conference. We also hope this gives more of your employees an opportunity to attend. We look forward to meeting with you soon. If you have any questions about the agenda please email Val at valt@dhicorp.com
Directions Kickoff / Keynote Speaker
eBanking Back-Office Brilliance
This class will start with the basics and work quickly to more advanced support know-how. You'll learn about coming changes to CIM GOLD and review third-party integrations. We'll also discuss key metrics for eBanking reporting.
Internal Fraud
No one likes to hear the word "fraud," and they like the idea of internal fraud even less. Unfortunately, some people in the banking world find the lure of "easy" money quite enticing. In this class we'll discuss what can be done within the FPS GOLD® system to help identify and mitigate internal fraud. Some of the processes we'll discuss include Employee/Officer accounts, GOLD ExceptionManager, and Dormant/Inactive account tracking, as well as Miscellaneous G/L and Loan transactions. The audit process is a key factor in fraud prevention, so we'll also identify and discuss critical Deposit and Loan reports that should be part of the bank's processes. If you'd like information about how you can prevent internal fraud at your financial institution, this class is for you!
Loan Modifications and Payoffs
Does your Institution offer modifications, renewals, and extensions to your loan customers? Do you make adjustments to due dates, maturity dates, and term of the loan? If you answered "yes" to either of those questions, attending this session will be very beneficial to you. We'll go over the updated modification screen as well as the modification transaction and its capabilities. We'll also cover the enhancements made to the Payoff screen that support the new features and functions of the modification transaction. Please join us to learn about the system's ability to handle modifications.
EFT GOLD/FedNow
This class will highlight some of the upcoming changes to payment processing at the Federal Reserve Bank, including the FRB's instant payment service, FedNow, and the pending Fedwire ISO 20022 format changes. In addition, we'll demonstrate some of the features of FPS GOLD's wire transfer solution, EFT GOLD, and how the FRB payment initiatives will impact the future development and features of EFT GOLD.
eBanking Mobile Moxie
According to Forrester, "one in eight U.S. online adults who opened a checking account say a financial provider's digital services (such as its app) is one of the most important factors when selecting a brand" (The Forrester Digital Experience Review: US Mobile Banking Apps, Q3 2020). FPS GOLD understands this and wants your mobile users to love the experience. This class will focus on leveraging your mobile app for success.
G/L Platinum
Several institutions have converted and are enjoying the benefits of the new FPS GOLD G/L Platinum® system. During this session, several key features of G/L Platinum will be highlighted. We'll also preview items on the horizon for this system. The conversion process to G/L Platinum will be outlined, along with steps institutions can take to prepare for this effort.
Enhancements to the Loan Charge-off and Recovery Process
The FPS GOLD Loan, Financial Applications, and Development teams have been working to significantly enhance the Loan Charge-off and Recovery process. During this session, key objectives and improvements needed to track and account for charge-offs and recoveries will be reviewed. Upcoming software changes will be previewed, showing the progress being made to address various scenarios in the charge-off and recovery process.
Teller Capture
Come to this session to view a demonstration of the FPS GOLD Teller Capture product. Implementing Teller Capture can provide your organization cost savings over time by reducing the need for back-office scanning. Teller Capture can also improve the customer experience by providing transaction images accessible on account history immediately as transactions are performed.
eBanking Expectations (Desktop)
What can FPS GOLD do to help your bank succeed with the digital channel? What about opening a new account for an existing customer? What about real-time payments? What about commercial tools to help you expand? Come see what's new and what's coming soon.
Loan Programming Enhancements
The Client Services Loan team and Programming departments at FPS GOLD have been working hard over the last couple of years to program new features and enhancements to meet the needs of our clients in this fast-paced, ever-changing banking environment. During this session, we'll go over some of those enhancements and features, giving you an overview of what they are and how they work. We have new statements and notices, enhancements to existing screens and mail merge functionality, and other exciting updates to share with you. Join us to learn about what has been happening on the programming front from a loan perspective.
Loan Forum
The lending environment continues to change all around us. The Loan Forum gives you the opportunity to share thoughts and ideas on growing with these changes. Prepare to share your ideas and network with other clients and FPS GOLD personnel. We encourage you to submit your ideas and topics of discussion before the forum to tmurphy@fpsgold.com or brandonw@fpsgold.com.
Deposit Forum
Come to this year's Deposit Forum to share ideas with other FPS GOLD clients about our deposit-related systems. We need your input to continue making our systems better. We encourage you to submit your ideas and topics of discussion before the forum (daynak@fpsgold.com) so that we can be prepared to address them with the entire group.
Accounting Forum
The accounting forum offers an open venue for accounting-related questions, observations, and considerations. Recent improvements and beneficial accounting features will be reviewed. Future enhancements to the FPS GOLD suite of accounting applications will also be discussed, particularly the upcoming rewrite of the Accounts Payable system.
Inky Johnson as Directions Keynote Speaker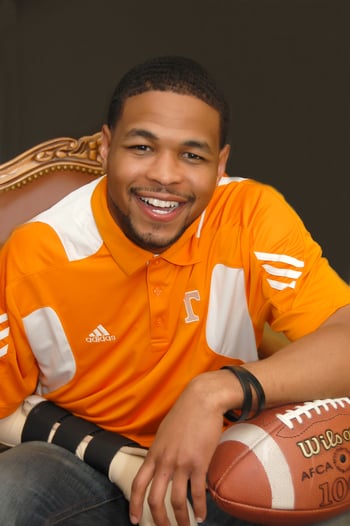 Who is Inquoris "Inky" Johnson? He could be described as the survivor of an underprivileged past. He could be described as a refugee of poverty and violence. He could be described as a success story stained by tragedy. But if you look deeper, you'll discover something else.
You'll see a man who looks in the face of defeat and says, "Am I really failing, or is God prevailing?" You'll see a man gripped by the promise that God has purposes and plans far beyond our own. And you'll be inspired by his relentless determination, which he loves to impart to others through his dramatic story.
Inky has a master's degree in sports psychology from the University of Tennessee. He devotes much of his time to mentoring athletes and underprivileged youth. He and his amazing wife Allison live in Atlanta, Georgia with their beautiful children, Jada and Inky Jr.
We're more than excited to have Inky Johnson inspire us at Direction 2021.